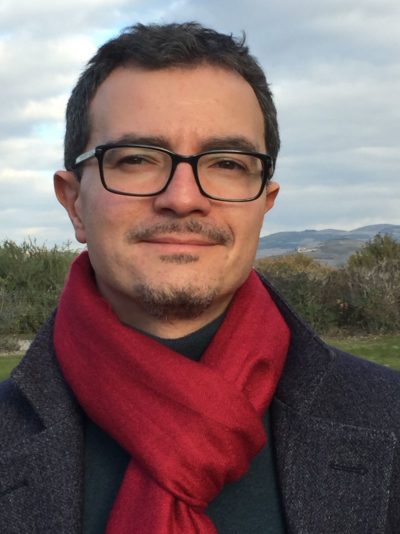 Niccolò Scaffai
Niccolò Scaffai is an associate professor of Italian Contemporary and Comparative Literature at the University of Lausanne, where he is the director of the "Centre Interdisciplinaire d'Étude des Littératures" (CIEL) and where he coordinates the "Pôle de recherche sur l'Italianité" (RecIt). His research focuses on contemporary poetry, twentieth century literature, comparative literature and literary theory. More specifically, he is currently working on Primo Levi and the Shoah narratives and on literature and ecology. He is a member of the directive board of  «Italianistica», «Between. Rivista dell'Associazione italiana di teoria e storia comparata della letteratura» and he collaborates with other academic journals. His most recent books are Il lavoro del poeta. Montale, Sereni, Caproni (Roma, 2015); Letteratura e ecologia. Forme e temi di una relazione narrativa (Roma, 2017); À l'italienne. Narrazioni dell'italianità dagli anni Ottanta a oggi (with N. Valsangiacomo: Roma, 2018); Dall'altra riva. Fortini e Sereni (with F. Diaco; Pisa, 2018).
.
Studies on Ecology and literature
Scaffai N. (a cura di) (2010). Nature, Ecology and Literature. COMPAR(A)ISON, BERN: Peter Lang, ISSN: 09428917.
Scaffai N. (2011). Ecologia e rappresentazione dello spazio: Saviano, Tournier, DeLillo. BETWEEN, vol. 1, pp. 1-11, ISSN: 20396597.
Scaffai N. (2013). Entropia dei rifiuti: contenere l'incontenibile. In: (a cura di): Caterina Salabè, La letteratura e la crisi del pianeta. pp. 179-186, ROMA: Donzelli, ISBN: 9788860369697.
Scaffai N. (2014). Ecologia e letteratura. In: (a cura di): Piero Boitani, Massimo Fusillo, Letteratura Europea. vol. 5, pp. 369-393, TORINO: Utet, ISBN:
Scaffai N. (2015), Littérature (Point de vue 1). In: (a cura di): Dominique Bourg, Alain Papaux, Dictionnaire de la pensée écologique. PARIS: Puf, 2015, pp. 605-608, ISBN: 9782130586968.
Scaffai N. (2016). Mondi sconosciuti: ecologia e letteratura. In: (a cura di): Nicola Turi, Ecosistemi letterari. Luoghi e paesaggi nella finzione novecentesca. FIRENZE: Florence University Press, pp. 17-35, ISBN: 9788866559924.
Scaffai N. (2017). Letteratura e ecologia. Forme e temi di una relazione narrativa. ROMA: Carocci, ISBN: 9788843089413
Scaffai N. (in preparazione), Rappresentare la complessità: la relazione narrativa tra letteratura ed ecologia, in Atti del Convegno "A mezzi termini. Forme della contaminazione dal XX secolo", Università di Pavia, 12 aprile 2018, MILANO-UDINE: Mimesis edizioni.